Downcross – Mysteries of the Left Path (Scary Torch Black Metal)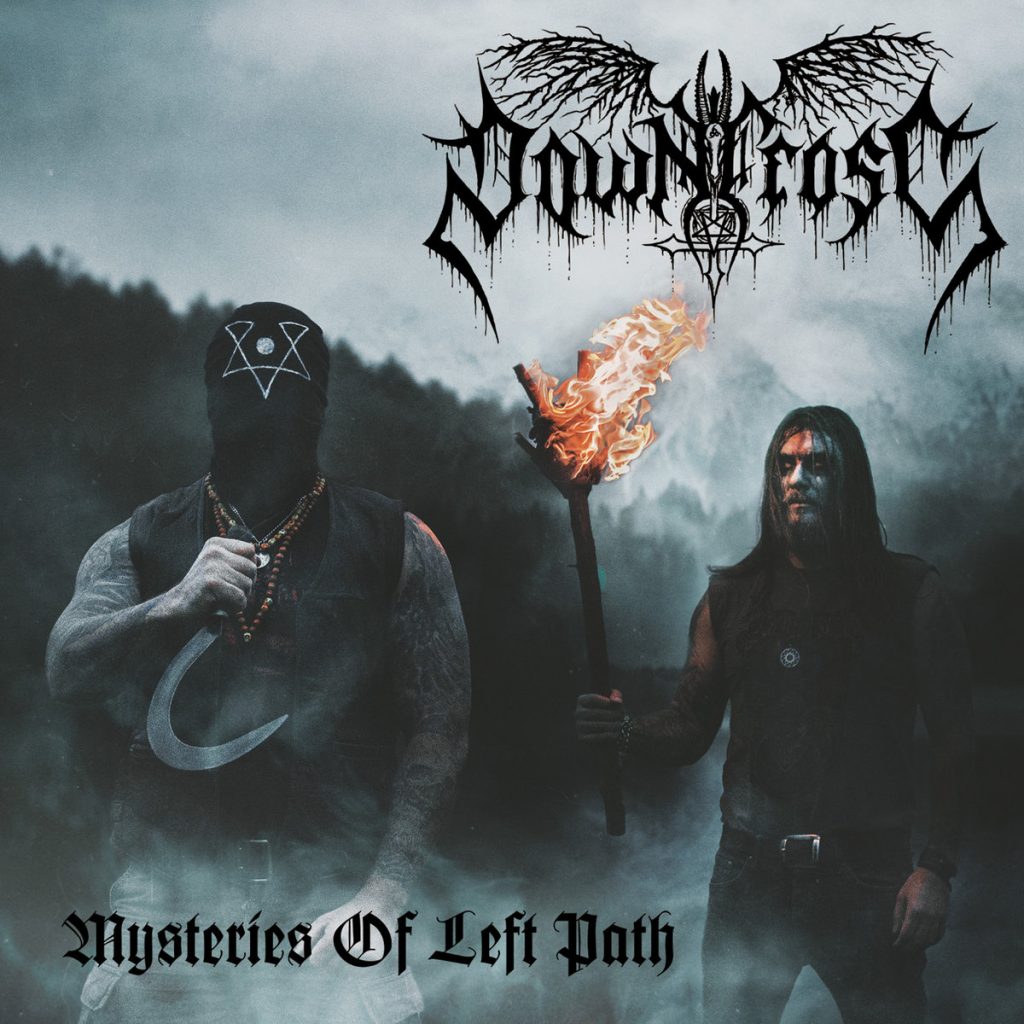 Alright you know 1,000,000% this is black metal. It can't be anything else. All the signs are there. Dripping creep logo with some pentagram and upside-down cross shit in there, plus creepy goat head and bat wings, I mean wow that's just the logo and I'm not even close to done. What else? Lol, fog-ridden forest, scary torch on fire, corpse paint, tattoos, one dude who lifts probably, and esoteric creep mask with scary symbol that probably means something. Finally, Gothic font yes? Oh there it is! Already you've probably sighed. I mean dudes look tough but you've likely sighed. Oh, black metal again. Nothing more, nothing less, except this is Downcross MFs.
I had pretty much negative 1,000,000% interest in listening to this, let alone reviewing it. I mean, cool, tough dudes, scary torch, but honestly I can only take so much classic black metal anymore. I'm not old, I'm just tired. But, oh man, listen, this is Downcross MFs. Mysteries of the Left Path hits like an esoteric torch to an antifa face. It's classic, sure, but what Downcross crafts are called riffs. The typical aesthetic is all over this album, but what makes it different is the duo's absolutely, unabashed command of riff power. Most black metal hides its meek structure behind a false aesthetic of lo-fi, but Downcross come at you with high production and bright, vibrant clarity that gives it due from the start to end. There's no reason to hide riffs of this caliber, because they're good. These Belarusian maniacs have just released another album, equally awesome, but I preferred the art of this one just because of the first-glance hilarious cover that becomes more badass as you listen. It's only fault is it's still classic in its entirety, it's just the best kind of classic there is.
Written by Stanley, Devourer of Souls
Downcross – Mysteries of the Left Path
Saturn Sector Rex
4.2 / 5