The Blind Prophet (Infernal Point-and-Click Cyberpunk Noir)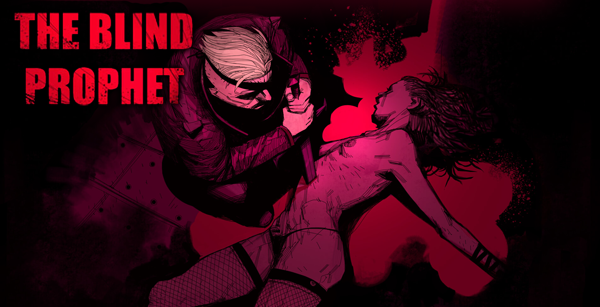 Boy do I appreciate a little bit of dis oh baby. That infernal demon action is what I'm talking about hell yeah. Looking at the above header I designed from a screencap you're probably like you…sick…freak, but I'm merely savoring the sweet taste of point-and-click madness that this game is built upon, nothing more, so save your tears provincial. That was just a cool moment of demon killing I captured up there. And that's what The Blind Prophet is about, demon killing in a shitty fishing town down on its luck and up on its prostitution, drug addiction, cathedrals, and haunted houses. Add some cyberpunk-esque aesthetic and you're ready to slay.
Point-and-click is a lost art. It used to be the stuff of legend in the 1990s with masterworks like The 7th Guest and Hell, though the latter ended up kind of sucking because of some faulty puzzle clues. Regardless, it's not something you see enough of these days and The Blind Prophet verifies we're in need of change, maybe revolution. You control an "apostle" named Bartholomeus, who's lived thousands of years and has like seen it all man. He comes to a broken down town hunting demons after stopping a rape/murder and the plot gets blood thick and quick. The Blind Prophet is absolutely beautiful to look at with its stunning art, and the plot has a number of cool turns in its density to keep you interested. Other than a few spelling errors in the English version I noticed, it's a point-and-click treasure of the infernal kind with some cool heady puzzles tossed in the mix.
The Blind Prophet Official Steam
Written by Stanley, Devourer of Souls
The Blind Prophet
ARS GOETIA (developer), Maple Whispering Limited, Plug In Digital (publishers)
4.5 / 5