BIGKLIT – KLITORIUS BIG (Violating S3xual Death Rap)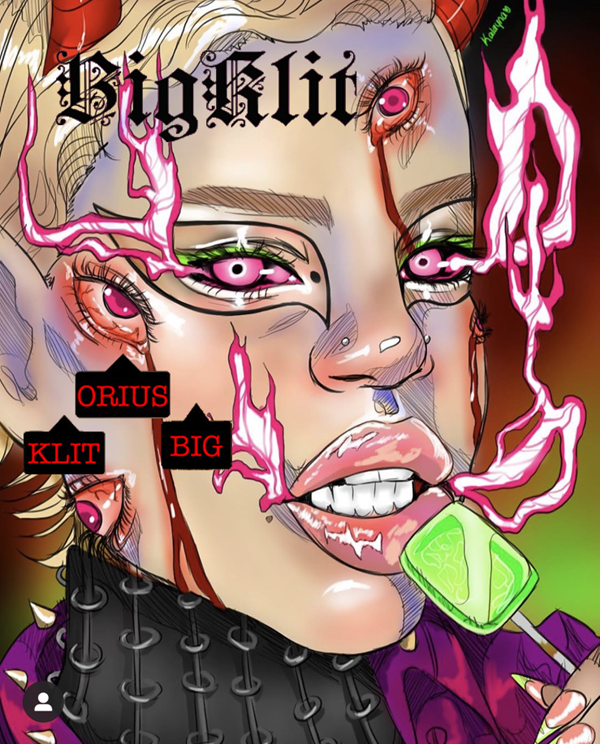 I rarely do rap mainly because what I receive is so derivative I wonder why they even try. And the art…uggghhhhh. What is it with the hip-hop and rap community and god awful art? Seriously. Occasionally there are goodies like Chong Wizard, but I suppose like anything else the taint of the typical is what keeps things going for the majority. Now and then someone pushes buttons, however, and if they do it right they can succeed and maybe get a review on my sad site here. BIGKLIT is the most recent of this type, whose brazen, over-the-top, and violent sexuality make for one of the greatest rap albums I've heard in awhile, the aptly-titled, lol, KLITORIUS BIG. Note the artwork here is actually from her Instagram, but it fits the aesthetic of the site better, not to mention I can actually promote it. The original cover, lol, probably not…but let's stay on topic.
BIGKLIT doesn't give a shit about anything and she has the Tik Tok presence to prove it. She leaves hair unshaven in all the wrong places and spews blood from her mouth, spending time on Instagram smashing the camera with her vulva while chasing men with knives, and she's all about sexual fulfillment in the most violent of ways. I caught her choking dudes in vids, threatening to smother girls and guys with menstrual blood as she fucks them numb, and the like. Or at least it seems that way. To be honest she's so direct and rude with her approach she's probably said everything I could conceive of and I was so overwhelmed I either remembered some of it wrong or I just figured she said it anyway. If not she'll read this and then add it to her repertoire. KLITORIUS BIG succeeds in its harshness for sure, though the beats and general sounds are generally expected. This type of rap has always been vocal-focused, however, and further BIGKLIT's exploitation and purposeful abuse of various approaches, sounds, and standards for the sake of disgracing the listener's existence is what makes it work. If she ever drops her vileness it will crumble. The question is can it be sustained in this way or can it develop?
Written by Stanley, Devourer of Souls
BIGKLIT – KLITORIUS BIG
Sony Music Entertainment
Artwork Used Here: kalaynokay_art
4.3 / 5