Vaultwraith – Death is Proof of Satan's Power LIMITED EDITION Cassette and T-Shirt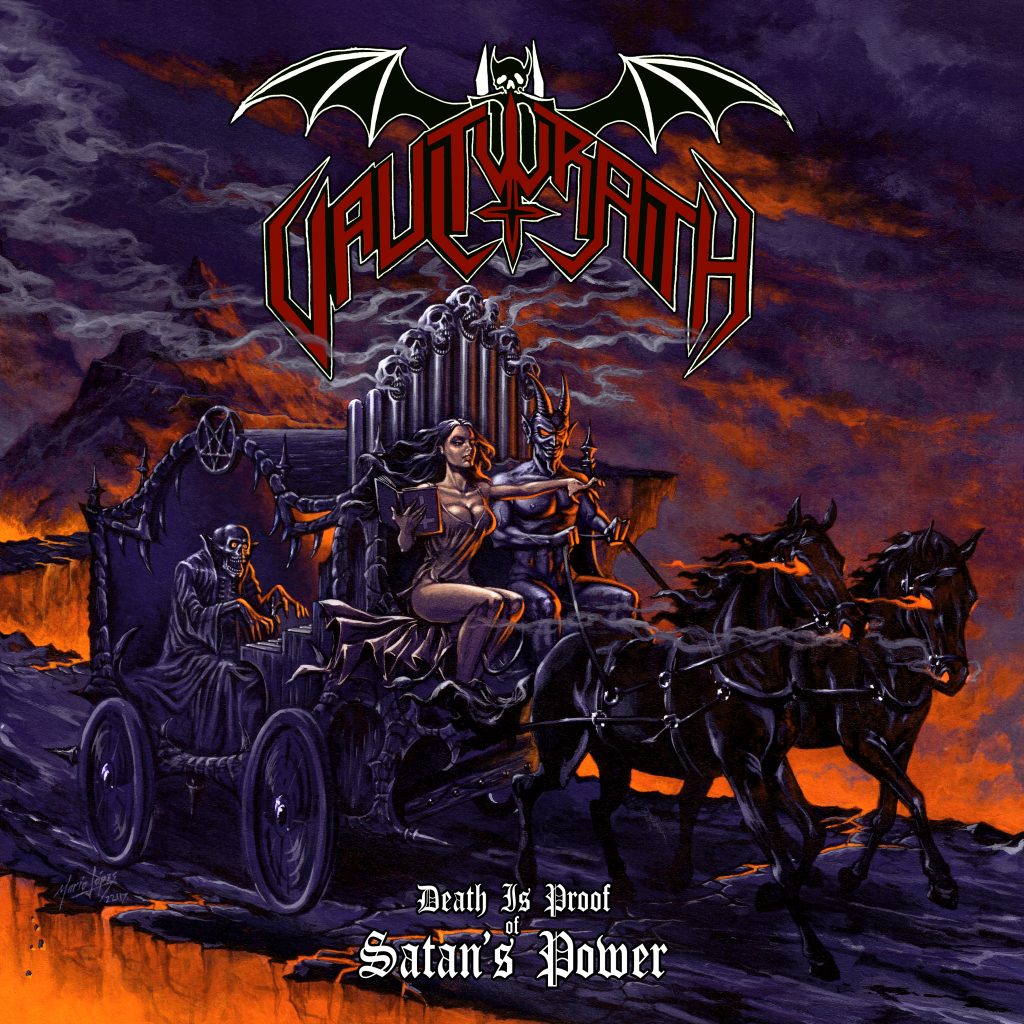 PREORDER TIME! Vaultwraith I reviewed some time back, and they have a new one that dropped this past year, but I was particularly interested in Death is Proof of Satan's Power, which had yet to see cassette release. So, I'm doing a limited edition cassette version (with slightly different art and layout) that can be purchased alone, at a cheaper rate with an official T-Shirt in a special package, or the T-Shirt alone. Please note that this is a PREORDER. Shipping will occur by roughly the third week of October, provided there are no shipping or production delays due to the current pandemic. There is no immediate shipping on any of the items until I have them in hand. This limits the number produced to keep it ultra legit doodz. The album itself can be sampled below, and then please read further about the shirt because I have a new factory.
Now that you have a taste of that Satan metal, check out the shirt sample above. I have chosen a new path for Death Sparrow clothing, utilizing DTG (direct-to-garment) printing. Because of how they're made, these shirts are a polyester and spandex combination. They are more of an athletic fit, and very breathable and light. The printing, unlike silkscreen shirts most labels use, will NOT wear with washing. It will remain permanent because the image is printed directly INTO the fabric. This shirt type can tend to feel a little smaller than you may be used to, so PLEASE read the following sizing CAREFULLY. Generally you may want to go with a size LARGER than you wear with a typical cotton shirt, but the sizing below will make it clear. Measurements are provided in centimetres on the left (marked by cm) with inches on the right. Please note that inches have been written to the highest number. Double-check conversion if you are not certain of the size you might require. Now, head to the store and choose your evil!
| | | | |
| --- | --- | --- | --- |
| Size | Shoulder | Bust | Length |
| Small | 38 cm / 14.9" | 84 cm / 33.07" | 65 cm / 25.59" |
| Medium | 39.5 cm / 15.5" | 89 cm / 35" | 67 cm / 26.37" |
| Large | 41 cm / 16.1" | 94 cm / 37" | 69 cm / 27.16" |
| XL | 42.5 cm / 16.7" | 100 cm / 39.3" | 71 cm / 27.95" |
| 2XL | 44 cm / 17.3" | 105 cm / 41.3" | 73 cm / 28.74" |
| 3XL | 44.5 cm / 17.5" | 110 cm / 43.3" | 75 cm / 29.5" |
| 4XL | 47 cm / 18.5" | 115 cm / 45.27" | 77 cm / 30.3" |
| 5XL | 48.5 cm / 19.09" | 120 cm / 47.2" | 79 cm / 31.1" |