Kohate (Sci-Fi BDSM Horror Puzzle Run)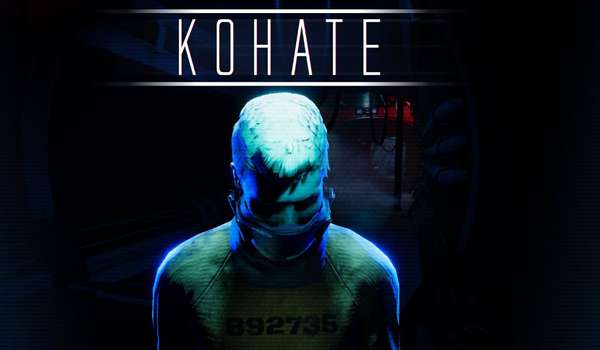 This game is strikingly similar to The Subject (our first video game review on this site I believe, same company too) but its approach is much different and its storytelling more refined, though that "tie me down you beast" aesthetic is still present (lol). In Kohate you play the roll of an unnamed prisoner who's part of a privatized prison system in the future. Sold to the highest yuppie scum bidder, you are placed inside their "Kohate" facility to complete a variety of tasks while avoiding an "abomination" that will kill you in a mad rush and chew upon your face because it's a fooking bum that won't let you alone come on. You'd think that since this is largely a similar plot to The Subject, and at first glance a revamp for more cash, that Kohate would just be plain old "hate," but surprisingly DarkStone Digital can work nearly any angle, including one he already did lol.
Whereas The Subject had more of a story to tell, Kohate is primarily about completing puzzles as quickly as possible. Death returns you to the start with objects and completed aspects of the facility where they were, but should you exit it all washes clean and you need to start again. As such, it's meant for shorter play (roughly 30 minutes), but yet is not a simple one-play title. Rather it is one where the player needs to adapt and grow for the best endings (there are four total). You can navigate the maze without the beast to get a feel for the layout, add the beast, enter "Hell Mode" where things are even more difficult and hideouts no longer work, and the like. As such, it has more replay value than other short horror titles of its kind, and the familiarity of the player with the facility with each play increases your capacity for completion.
Written by Stanley, Devourer of Souls
Kohate
DarkStone Digital (developer, publisher)
4.2 / 5