Gold Spire – S/T (Let's Toss in Some Sax Swedish Death Metal)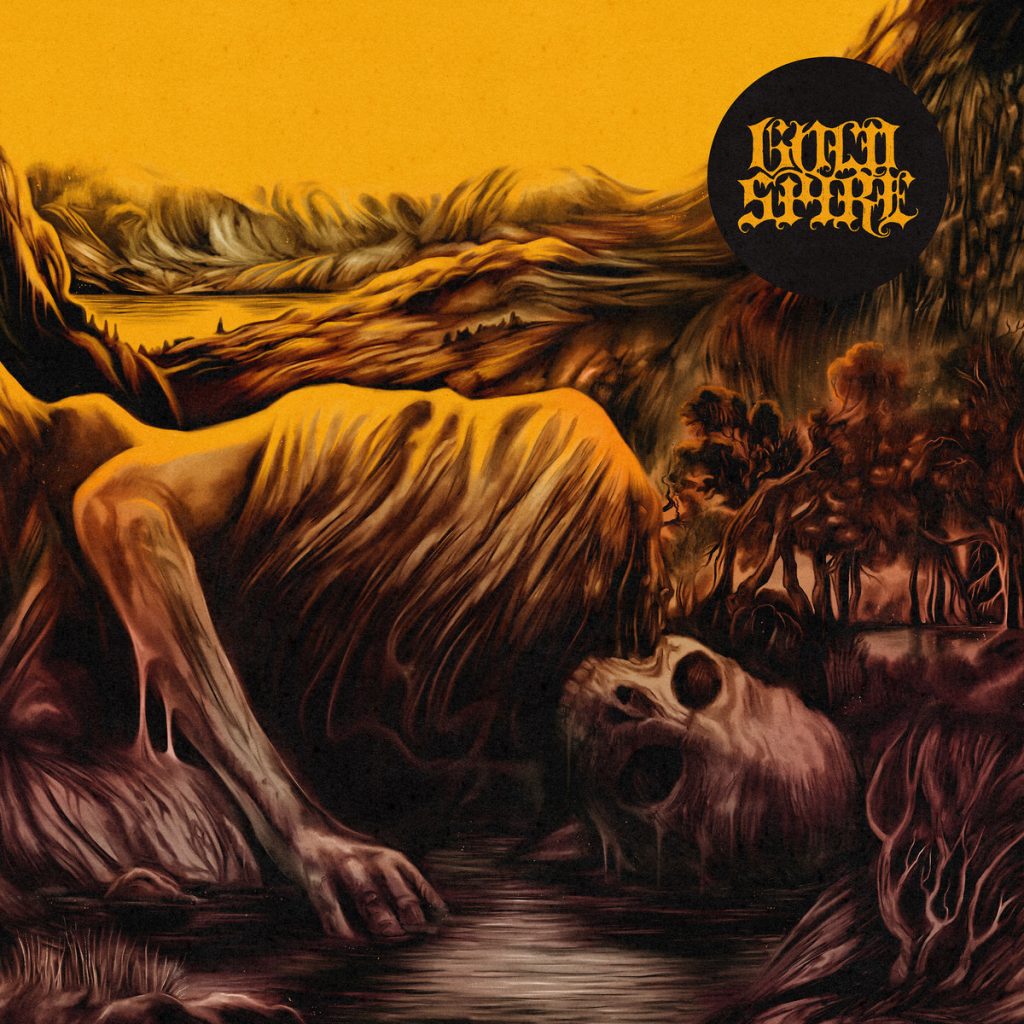 I was pretty sure I was probably going to like this, so imagine my surprise when I really didn't. Bummer. Gold Spire consists of members of some pretty important Swedeath bands, most importantly Usurpress. Swedish death metal has, simply put, been known for bending the rules, or outright discarding them. This one I saw getting some omggggggggg press even before I took the time to listen to it, and it was sadly a case of "is it just me?" But the more I investigated my reasoning, the more I realized that no, it was not, there is something that needs said. I normally avoid negative reviews unless I feel it's a band that needs a significant slam into the ground, and considering how much I respect the dudes in Gold Spire I was hesitant to even review it at all. But, this is in hopes of a potential future for the band, which is easily envisioned as something greater than what it is currently.
Gold Spire, on the metal end, is definitely above the usual. The riff-making is superb, melding several genres into an emotional slab of dread. In fact, were you to strip certain details away it would have been more than sufficient, but being Swedish, of course there had to be more. Gold Spire are masters at metal, but like many in the industry, utilizing anything else is often disastrous. Now, I wouldn't call it quite that, but the mixing of other instruments, such as sax, is largely an afterthought. In most cases it's easily summarized as "hey dudes, does anyone play an X (insert instrument usually not in metal)." "I did a little in like sixth grade." "Cool, let's add that then." As such, these moments will ring as cutting edge to those not familiar with genres outside of metal's relatively static confines. Those versed in classical, jazz, and the like, will find them for what they are, superfluous ornaments lacking true effect. Gold Spire, however, is most certainly on to something. If they're able to successfully merge unorthodox instruments with all that makes them metal greats, you will certainly need to pay attention. I'll be waiting.
Written by Stanley, Devourer of Souls
Gold Spire – S/T
Chaos Records
Cover Art: Påhl Sundström
3.2 / 5