World of Horror (Horror Manga Point-and-Click Game)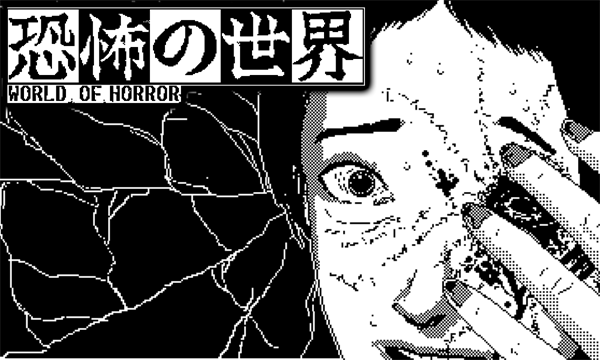 Just wow. Reviewing video games is much more difficult than the usual music crud on this site. They're not as easy for fans to access, they can require more money (if we're talking about digital anyway), and they take longer to assess. But recently we fools at Deaf Sparrow have been restructuring the review path to focus on indie horror and lesser-known dev teams, if not for the fact that they're undergrounden as fook and actually respond to emails. So this one came basically straight from the devs and like totally blew my mind to pieces.
World of Horror is the stuff retro PC gamers dreams are made of. I'd say nightmares because of the theme, but that would imply it sux, which obviously it does not. Taking cues from horror manga (Junji Ito is an obvious inspiration) and old point-and-click games (think Maniac Mansion), this one takes place in Shiokawa, Japan, and with it's quasi-Lovecraft theme of ancient gods reawakening, you are tasked with running through a variety of macabre mysteries. For a game of this type World of Horror is almost shockingly dense. At times, certain actions yield variable results, which can be somewhat irritating, but as a whole it plays extraordinarily well with tons of features to discover and perfect. Its atmosphere is one of PC fandom in the early 1980s, yet refined to a modern level that is both a work of art and a gruesome storytelling surprise. Top notch shit.
World of Horror Official Steam
Written by Stanley, Devourer of Souls
World of Horror
panstasz (developer), Ysbryd Games (publisher)
4.8 / 5