Blonde (Devouring Humanity through Fame Drama)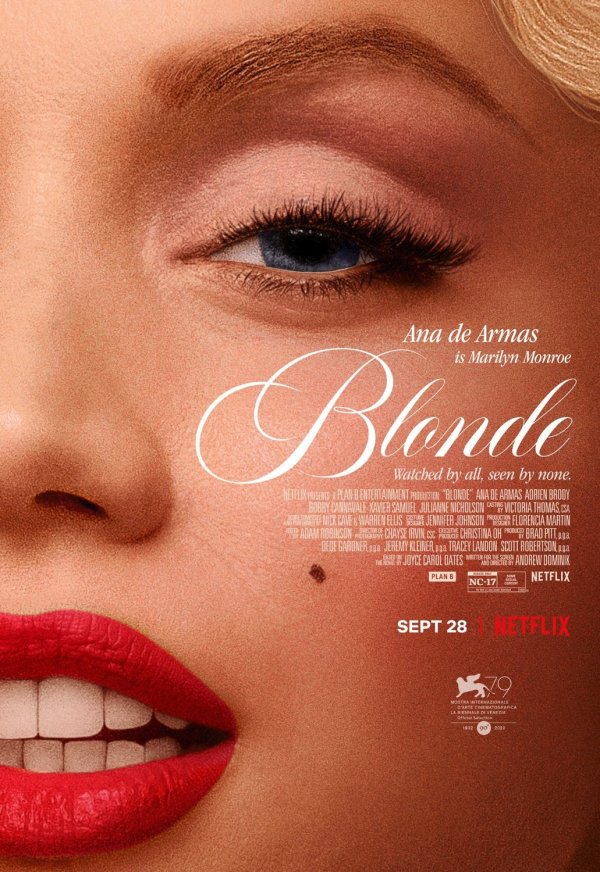 Not since the heyday of cinema terrorists like Lodge Kerrigan, Gaspar Noe and Darren Aronofsky has a film delivered the out-and-out assault that Andrew Dominik's Blonde lays out over the course of its' three hours. Please do not be deceived by the marketing of this film, which sells it as a slightly more interesting biopic of a famous Hollywood icon. This is something far more sinister and cruel; a pointed examination of the cruel mistress of stardom and the price one pays for mass adulation. We all know the story of Marilyn Monroe by now; beautiful woman, Playboy model, style icon, America's sweetheart, the first reigning sex goddess of the Silver Screen who met a very sad end thanks to mental illness and drug addiction. Blonde gives you fleeting glimpses of the good times and a mortician's eye view on the ugly pain that drove Norma Jeane insane. There's not much plot to decipher, but the image and the message is in the meaning. Andrew Dominik has been a major talent ever since he debuted on the scene with the galvanizing Chopper. With Blonde, he experiments with a whole new way to make movies; instead of directing things as they appear, he goes for feeling rather than nuance. This is a film where your opinion will be very much tempered by your emotional response to the extremes depicted. Be forewarned that those extremes go deep and this movie earns the NC-17 rating.
Praise must also go to Ana De Armas for her willingness to become Marilyn Monroe and in many ways suffer the same objectification/denigration as the icon she portrays. There is never a moment in De Armas' portrayal where her anguish rings hollow or false. She is Marilyn Monroe, as are Madonna or Britney Spears or Lindsay Lohan or any other sweet young girl who gets sucked into the star system and exits chewed up. This is frankly the best performance I've seen all year. Do not go into this film looking for historical accuracy. This is a descent into madness from the POV of the maniac that should not be taken at face value. The reviewers who have trashed this film need to stick to their safe and cozy ideas of what cinema is and leave this one to the true. Blonde is a film for those of us who like our meat tender.
Written by David, Comptroller of Your Last Scrap of Existence
Blonde (2022, Netflix)
Andrew Dominik
5 / 5