Mope (Seedy Black Comedy)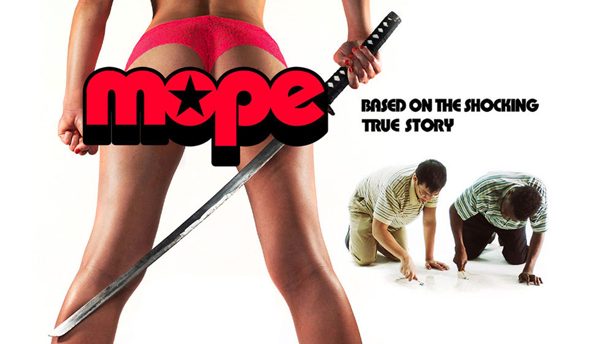 One of life's rich pleasures in mining the cinematic abyss for new treasures is discovering a diamond in the rough, some proof that there's still gold in them there hills. Is there anything left that can traumatize, mesmerize and pulverize like the classics of yore? Lucas Heyne's Mope is dead proof that a movie can still come around and knock you on your ass. The blackest of black comedies, this film is currently lurking on the back alleys of streaming services. Based on Mike Albo's disquieting article on the Ultima DVD machete massacre in Porn Valley, Mope is cinematic schadenfreude of the highest order and a message to true believers that good quality cinema can still spring forth out of the indie circuit. Meeting on a bukkake shoot, Steve Driver and Tom Dong become fast friends due to their shared dreams of porn superstardom. Their first steps? Hounding the owner at Ultima DVD into giving them work in his crude clubhouse/crash pad of a production company, where he exchanges pop shots and degradation fetish appearances in exchange for room and board along with some pocket change here and there. Tom exhibits gifts with computers and marketing whereas Steve's main attributes are a shocking lack of hygiene and a firm belief that he will rise to the top of the heap. If that sounds depressing enough, just wait until the second half.
First things first, this movie is a pitch-perfect representation of where pornography is now. Now that the novelty of seeing two people fuck is long since gone, the industry has grown fond of cruelty and degradation as a means of sexual gratification. Will our future generations look at Cum Far Bukkake on the same level that guys my age look at The Devil in Miss Jones? No attempt is made to glamorize or sugarcoat pornography in any way. These are sad people who lead sadder lives, yet we could easily be these people if we applied ourselves to the same fruitless goal. In conclusion, don't be fooled by the National Lampoon's style cover art. Mope is a total hidden treasure that could be a new cult classic on the level of something like Combat Shock if given proper attention and consideration. As a critic, I was blown away. Thank you, Lucas Heyne, you have given me new hope in indie cinema. I can't wait to see what you do next.
Written by David, Comptroller of Your Last Scrap of Existence
Mope (2019)
Lucas Hyne
5 / 5