Metal Hellsinger (Death Metal Album Visualizer Doom Clone Crossover)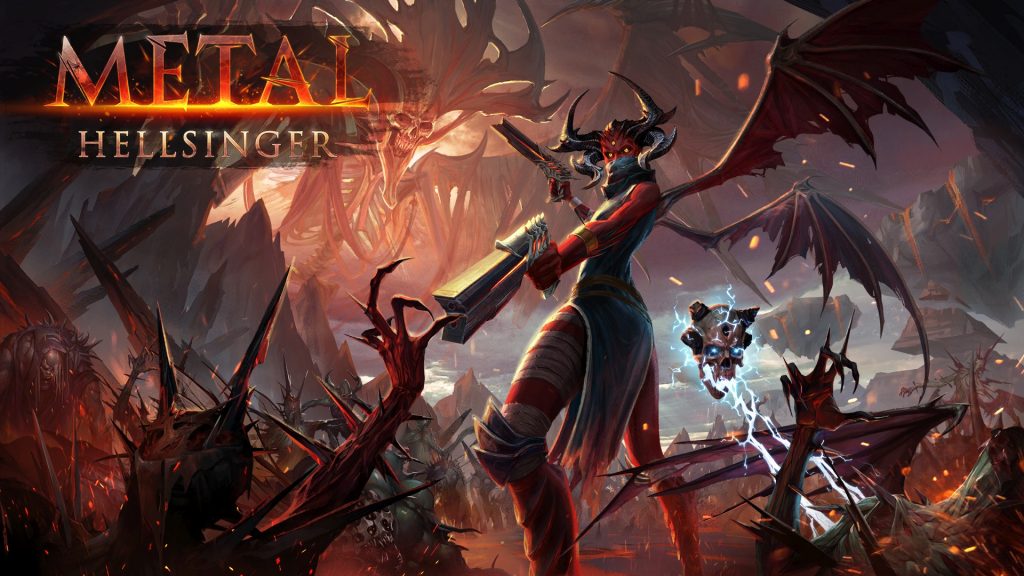 This video game is single-handedly one of the best metal albums of 2022 featuring guest appearances from: Alissa White-Gluz (Arch Enemy), Mikael Stanne (Dark Tranquility), Tatiana Shmayluk (Jinjer), Matt Heafy (Trivium), James Forton (Black Crown Initiate), Björn "Speed" Strid (Soilwork), Randy Blythe (Lamb Of God), Dennis Lyxzén (Refused And Invsn), and Serj Tankian (System of a Down). Big names mean nothing to me, but big sound does, and frankly, Two Feathers puts the vocal talents of all of those names to the forefront of a Doom clone. Don't get me wrong, everyone has their own musical taste, but I thoroughly enjoyed the variety.
Metal Hellsinger unabashedly wears its Doom influences on its shoulder with the added variety of timing not only shots but dashes, jumps, and reloads to the beat of the music. Different levels are faster and slower based on the tempo of the music, and this lends itself to varied gameplay with the same subset of weapons. Faster songs I tended to lean myself to slower weapons to quickly blast and reload for maximum damage, and slower songs for faster weapons to maximize every beat of a damage multiplying onslaught. The multiplier is a genius mechanic that doesn't just contribute to your score, but also the tracks. At 4x you'll get a minimal mix of drums and bass, at 8x a more full guitar is added, and at the maximum 16x the vocals kick in and give you an absolute jolt of electricity down your spine. You're reading a review of this game on here, so it's obvious you're interested in something decently related to metal. It's on sale at the time of this review, and likely will be on sale in the future. I would say give it a try and you will likely enjoy at least some part of this incredible shooter.
Metal Hellsinger Official Steam
Written by Steve, Cleaver of Plebian Flesh
Metal Hellsinger
The Outsiders (developer) Funcom (publisher)
5 / 5