Left Cross – Upon Desecrated Altars (Nasty, Brutish, and Short War Metal)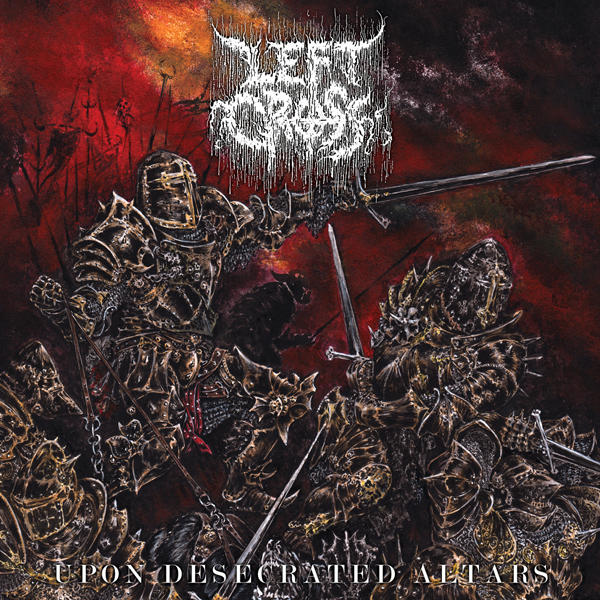 Here's a band I knew nothing about until I came across this in the promos. At first I thought it was some bro metal band obsessed with punching (see their name), and then I found out it was actually murderous war metal (redundant, I know) band from Richmond, Virginia, which is quite close to me. How in the hell hadn't I heard of them? To be fair, the "scene" in these parts is bizarre, and bands of this type are frequently under the radar due to a saturation of indie muck, but, whatever, I'm here now, and I'm ready to clash weaponry with the weak for the newest full-length from Left Cross, Upon Desecrated Altars.
Gather your weapons, whatever they may be, for though this type of metal can get redundant, Left Cross is a flurry of slashing variation. This is strange since one loser said that Upon Desecrated Altars is "insufficiently rewarding for the average listener." Well, yeah, because the average listener is an idiot. Listen, war metal specifically indicates what it's about; nasty, brutish, and short. Here, however, you're going to find much more. Just digging the marching groove of "Unbinding the Covenant," for example, seals that deal. Did you listen to the first track and call it a day? Yes, you are the average listener. Deeper within this you'll find cymbals clanging like swords rusted from stank blood, the riffs convulsing like piles of twitching, dead warriors, and the vocals, ah, a real key to war metal, echoing at the front line of the band's blood-hungry of hordes, calling thee to slay. A real test of this type of stuff is how much your testosterone raises per listen, and honestly I feel like I'm probably 18 again after this shit and the world is in danger. Grab your sword, raise it high, and die for the cause! Also read sites that get a clue, like this one.
Written by Stanley, Devourer of Souls
Left Cross – Upon Desecrated Altars
Profound Lore Records, Stygian Black Hand
Cover Art: Duje Aljinovic
4.7 / 5