Necrobarista (Deep Life Thoughts Ghost Cafe Game)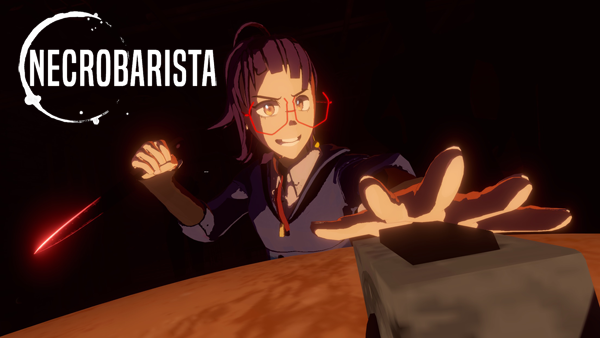 I wasn't quite sure at first if Necrobarista was really something that would fit in around here; figured I'd have to put some spin on it to justify why I was reviewing what first appears an anime game about a coffee shop. Anime, good. Coffee shop, bad. Always bad. Didn't you know? That could be a disaster as I sit here dishing out limited releases of bullshit puke music on vinyl. Coffee shop… Seemed like I was getting into territory that was far too dangerous for my own street cred, but luckily the team at Route 59 had other plans for me in this visual novel of empty, broken souls and necromancers that serve coffee.
I didn't think life could get so introspective playing a damn game about running a coffee shop the dead visit before they pass on. Goddamn. So Necrobarista, in being a visual novel, is not so complex in the gameplay. What it does right for this type of game, other than covering you in beautiful visuals that are 9000% anime-inspired, is drop you down in a dense plot with believable, well-written characters and stories. As with most games of this type, hopefully future additions will involve more story-building on the part of the player, instead of simply running through what's already present, but it's all so well-done and visually stimulating it's hard not to enjoy it, not to mention it will sink you into a pit of despair as you learn about loss, death, and perhaps yourself in the process.
Written by Stanley, Devourer of Souls
Necrobarista
Route 59 (developer), Coconut Island Games, PLAYISM, Route 59 (publishers)
4.3 / 5